If you are working in the digital marketing space, it is almost certain that you have encountered a few terms that you need to familiarise yourself with. Whether you are learning digital marketing for the first time or are looking to brush up on your digital marketing knowledge, reading a list of digital marketing terms and their definitions are useful. The digital marketing industry is constantly changing, and staying up-to-date with the latest trends, strategies, and terminologies are important.
A
Automation in Marketing
Automation helps perform the same task repeatedly in a particular & profitable time frame. It helps in saving time, cost, and workforce. This can include email campaigns, social media, and website actions. Zapier and Pabbly are two of the best automation tools.
Alternative Text (Alt-Text)
Alternative text or Alt-Text describes an image. It helps search engines (such as Google) to know what is in the image, so they can show it when they crawl your site or present it when the user searches using Google and clicks on an image we think may contain relevant content.
Anchor Text
The anchor text is a hyperlink used to pass link popularity. With the anchor text of a hyperlink, Google's algorithm determines how relevant and valuable a web page is to a search query. You can improve your search engine ranking if you use keyword-rich anchor texts for all backlinks pointing to your website.
B
B2B Marketing
Business-to-business or B2B marketing is about servicing the needs of businesses and corporations. In a nutshell, this type of marketing is all about building long-term relationships with your customers. B2B email marketing is the most popular digital marketing channel. With the right email marketing software, you can create customised email campaigns to suit the unique needs of your clients.
B2C Marketing
B2C – Products and services to consumers. B2C digital marketing includes search engine optimisation (SEO), search engine advertising (SEA), social media marketing, content marketing, email marketing, and viral marketing. B2C digital marketing can create awareness, generate leads, drive sales, and increase loyalty.
Brand Awareness
Brand awareness is a primary consideration in consumer behaviour, advertising management, brand management, and strategy development. Consumers will only purchase if they are aware of the product category and awareness of the brand within the category is present.
C
Click Through Rate (CTR)
CTR is the number of clicks a website link or advertisement receives divided by the number of times it was shown. CTR is used as an indicator of how effective the ad is. For search engine marketing, a higher CTR is considered better. For example, if an ad has 10 impressions and 1 click, the CTR is 10%. The higher the CTR, the more effective the advertisement is. If an ad has 1,000 impressions and 30 clicks, the CTR is 3%. The lower the CTR, the less effective the ad is.
Cost Per Action or Cost Per Acquisition(CPA)
CPA stands for "Cost Per Action" or "Cost Per Acquisition." CPA is a key performance metric used to measure the effectiveness and efficiency of online advertising campaigns. It represents the cost an advertiser pays for a specific action or acquisition resulting from their digital marketing efforts.
The formula to calculate CPA is straightforward:
CPA = Total Cost of Marketing Campaign / Number of Conversions (Actions or Acquisitions)
Call To Action
Call to action (CTA) refers to a design on a website that prompts a response from consumers. Marketers use the call to action to encourage consumers to take immediate action toward purchasing their goods or services. You must have a Call To Action on every possible page of your website so that if a customer is on an informational page, it will entice them to make that purchase.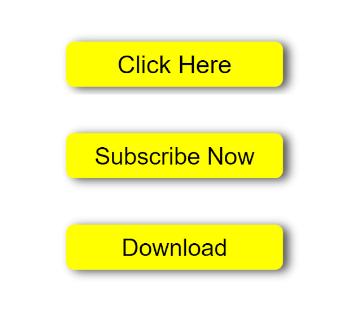 Cost Per Click
Cost per click is a popular and the most common metric used in digital advertising. Cost per click is calculated by taking the total cost of a campaign and dividing it by the number of clicks. The key to calculating cost per click is ensuring you have the right conversion tracking and that you are only counting conversions that meet your goals.
Cost Per Click = Total cost of the campaign/number of Clicks.
Cost Per Mile
CPM calculates the cost of advertising by dividing the advertising campaign's total cost by the impressions generated by the advertising campaign. CPM advertising is usually associated with search engine marketing and direct response advertising.
Conversion Rate Optimisation (CRO)
This CRO strategy aims to increase a website's conversion rate. The conversion rate is the number of visitors who click on a website or product and then purchase or sign up for a newsletter, for example. A high conversion rate indicates that users are finding what they want. If your conversion rate is low, users are more likely to leave your site and visit another.
Chat Bot
Many companies are using these programs to provide customer support services. Chatbots can be designed to support customer service, sales, and marketing. Chatbots are also used in e-commerce.
D
Digital Marketing
Digital marketing uses the Internet, social media, mobile devices, and other digital marketing tools to grow your business. This marketing approach uses different techniques, including web-based emailing, social media marketing, social networking, and mobile marketing. Digital marketing has changed how people find, evaluate, and make product decisions. This is because consumers are more aware of their options and more connected than ever.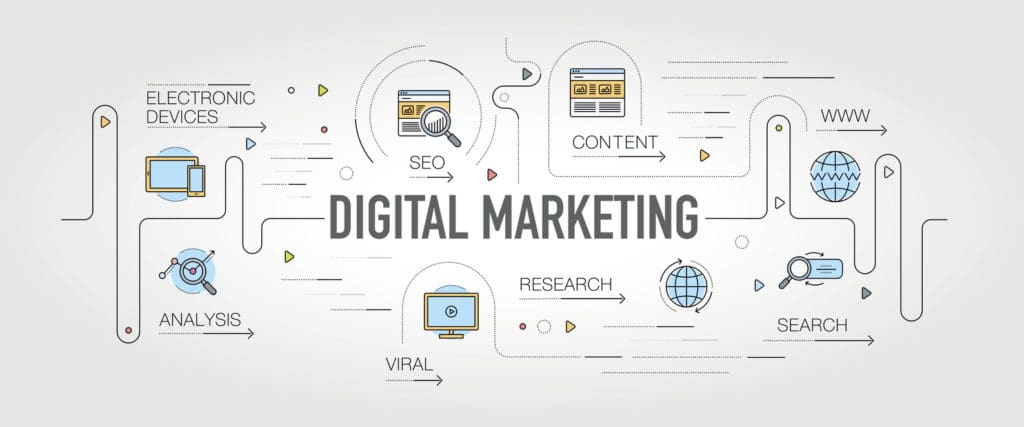 Digital Marketing Services
Digital marketing encompasses all marketing techniques that use digital technologies, such as the Internet. This term is used for online marketing practices such as SEO, PPC, blogging, CRO, web design, content marketing, and many more.
Digital Marketing Strategies
Digital marketing channels are online avenues to attract customers and build relationships with them. It is a fast-growing business marketing strategy and an essential component for marketing professionals. With effective digital marketing strategies, businesses can gain target audiences, build brand awareness, and increase sales.
Digital Marketing Channels
Digital marketing channels refer to digital advertising sources like search engines, mobile apps, websites, email, social media (Eg, Facebook, Whatsapp, Instagram), etc.
Digital Marketing Funnels
The funnel concept shows how marketers should focus on a sequence of stages and end with a conversion from a potential to an actual customer. You can use the funnel to understand your customer's buying behaviours better. To maximise conversions and/or increase ROI, you need to know where your customers drop off.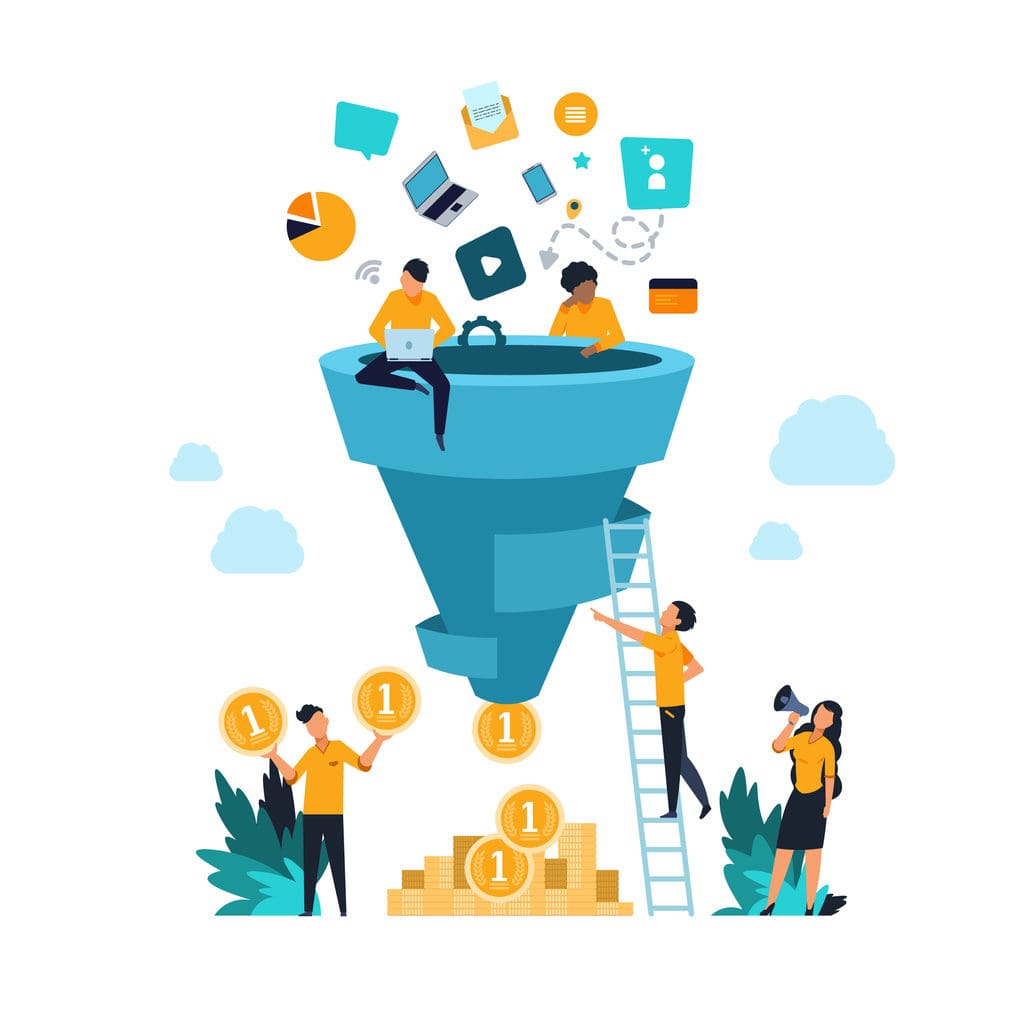 Digital Marketing Campaigns
A digital marketing campaign is advertising that uses various digital marketing channels to reach its objectives. Digital marketing campaigns, including pay-per-click, social media, and email marketing. They are used to reach company/marketing goals.
Domain
A Domain name is the online identity of your website. It's what people will type into their browsers to find your site. For example, wonkrew.com is the domain of our website. Benefits of owning a domain name includes Reliability, SEO, Privacy, Brand Awareness and Professionalism.

E
E-Commerce
E-commerce is a term that refers to businesses that market their products or services over the Internet. E-commerce businesses are responsible for more than $2 trillion in annual sales. It is not just limited to business-to-consumer transactions; it also includes business-to-business transactions.
Email Marketing
Email marketing has become a buzzword in the marketing world. It is one of the most effective marketing techniques to target the right audience and allows you to target a specific market segment.
It is cost-effective to market your business to the right people. You can send quarterly or monthly newsletters to your customers and prospects and advertise your new services, products, or upcoming sales.
Engagement Rate
The engagement rate refers to the percentage of users engaging with your website. This engagement can be an action such as a click, comment, like, or share. The engagement rate can help you to determine how effective your content is in reaching your audience and how well your audience is engaging with your content.
Exit Rate
Exit rate is an important metric that provides information about how many visitors leave a specific site page and, eventually, the site after visiting a particular site page. If the exit rate is higher than you would like it to be, consider researching why your visitors are leaving prematurely.
F
Facebook Advertisement
Facebook Advertisements promote your business, product, or website through Facebook. It also offers a range of advertising options that cater to different needs.
Facebook Ads Manager
Facebook Ads Manager is available for everyone, which helps in managing your Facebook Ads. It allows you to see what is working and what isn't to compare the results of your ads easily.
Facebook Business Suite
Facebook Business Suite is a free tool that allows admins to manage their Instagram accounts, Facebook Pages, and Messenger interactions from a single dashboard.
Facebook commerce Manager
Facebook Commerce Manager is a platform to manage the catalogue of your products to be displayed on Facebook. With this tool, you can create a catalogue of your products, adjust them for the best display on Facebook, and manage your orders. You don't need a shop to use Facebook commerce manager.
Facebook Events Manager
Facebook Event Manager is a tool for managing Facebook events. You can use Facebook Event Manager to create and manage events, add and remove event hosts and guests, and view event activity.
G
Google Ads
Google Ads allows marketers to reach consumers through Google search pages and display networks. The service provides marketers with strategies to achieve their marketing goals, such as bidding on keywords to display ads in the Google search page results or on Google's network of partner websites.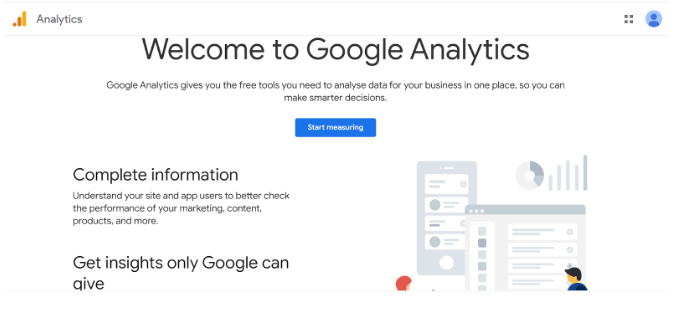 Google Algorithm
You will need to learn about the Google algorithm to rank higher on the search engine. The Google algorithm is designed to detect the quality of a website. It uses factors such as indexing, relevance, and freshness to determine the quality of a website.
Google Analytics
Google Analytics is a free web analytics tool showing how users engage with your website. Google Analytics gives you a deep understanding of your website visitors, including their location, what devices they're using, what pages they're viewing, and how long they stay on each page.
Google Business Profile
Google My Business allows marketers to input information to appear in the search page results, location searches, map packs, and more. Google My Business is ideal for local SEO campaigns as the company information appears in the Google Search Results when the company name is typed into the browser.
Google Tag Manager
Google Tag Manager is a tag management system (TMS) that works with your website's existing code to manage tags and track website activity. With Google Tag Manager, you can add and update your tags for conversion tracking, site analytics, remarketing, and more.
Google Hummingbird
Google Hummingbird is a search algorithm created by Google to improve its search results and user interface. This is developed to make Google's search results more accurate, relevant, and easy to understand. Many professional SEOs consider this to be the most important algorithm.
Google Mail
Gmail is a free, advertising-supported email service developed by Google. Google redesigned Gmail to be compatible with the modern (material design) visual language. Google mail is a highly efficient email service that enables you to send and receive your emails quickly and efficiently. It is a fast, secure, and reliable email service.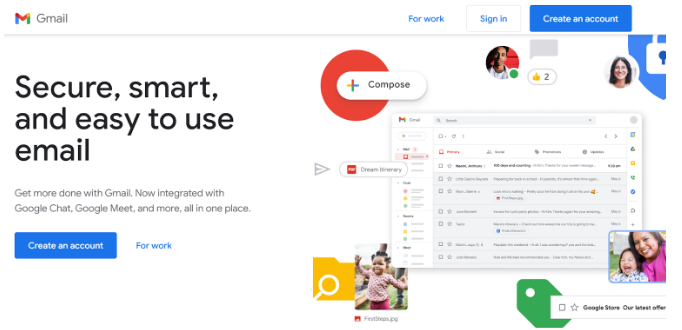 H
Hashtags
Hashtags are used on social media to promote your business or brand. It would help if you used hashtags that are popular and relevant. People can find your post and your business if you include a trending hashtag.
HTTP
Hypertext Transfer Protocol (HTTP) is an Application Layer protocol used to communicate information on the World Wide Web. It is the standard protocol on the Internet. It transfers data between a client and server, including email, file transfer, and instant messaging.
Hyperlink
The hyperlink is a cross-reference between web pages. It is a convenient way to link to other pages of the website. It is commonly used in blogs to allow readers to navigate to related articles. It is also used on social media platforms.
I
Instagram Marketing
Instagram is the most popular social media platform. It is very easy to use and is a great marketing tool for businesses. Instagram marketing promotes products and services, drives website traffic, and builds a brand.
Influencer Marketing
Influencer marketing is a big trend in social media marketing that is growing in popularity and is becoming an increasingly powerful way to reach new audiences and consumers. Influencer marketing is the way to go if you want to get the younger demographic.
Instagram TV (IG TV)
Instagram TV is a video-sharing platform that allows users to share short videos and moments of their lives and watch video content from others. Since Instagram TV is part of the Instagram platform, uploaded videos can be shared on Facebook, Twitter, and other social media channels.
Instagram Reels
The Instagram reels feature a new way to create and discover short, entertaining videos on Instagram. Reels allow you to create fun videos to share with friends or anyone on Instagram.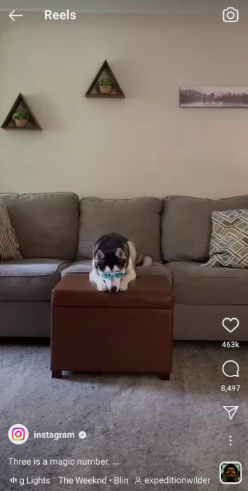 Instagram Notes
Instagram notes is a new feature that allows you to write short notes (60 words limit) to your friends. This feature can be used for both personal and business purposes. It's a great way to stay connected with friends and customers.
K
Keywords
Keywords are the words or phrases you use to help people find your website. If you want to sell your online store's products or services, you should use the keywords that people are searching for when they are looking to buy products or services. It would help if you also used the keywords people are searching for when they want to find information about your products or services. Keywords are also important in your on-page SEO because they are the words that Google and other search engines recognise when they scan your website.
Keyword density
Keyword Density refers to the number of times a keyword appears on a webpage compared to the total number of words on that page. Thus, keyword density = # of times a keyword appears on a page / total number of words on a page.
For example, if a page has the keyword "digital marketing" three times and contains 100 words, the keyword density would be 3/100 = 0.3 or 30%.
Keyword Research
Keyword research is a very critical aspect of digital marketing. It is the practice of searching on a search engine to find the number of people using a specific keyword. It is also a way to identify competition.
Keyword Stuffing
Keyword stuffing has been around for a long time. It was a tactic used by spammers and black hat SEO practitioners to increase their ranking in Google. It's a shortcut tactic and could lead to a penalty from Google. Hence, a brand that engages in keyword stuffing will likely fall in the SERPs fairly quickly.
Key Performance Indicators (KPI)
The marketing KPIs help businesses measure the campaign's performance and track their business performance. Several online tools exist to help you estimate your performance. You can use Google analytics or any other online tool to analyse your marketing performance.
L
Landing Page
The marketing KPIs help businesses measure the campaign's performance. KPIs are used by businesses to compare past performance to present version and create future performance goals. Knowing a company's KPIs will help you decide on your business. You can use the same data to track your business performance. You can use Google analytics or any other online tool to analyse your marketing performance.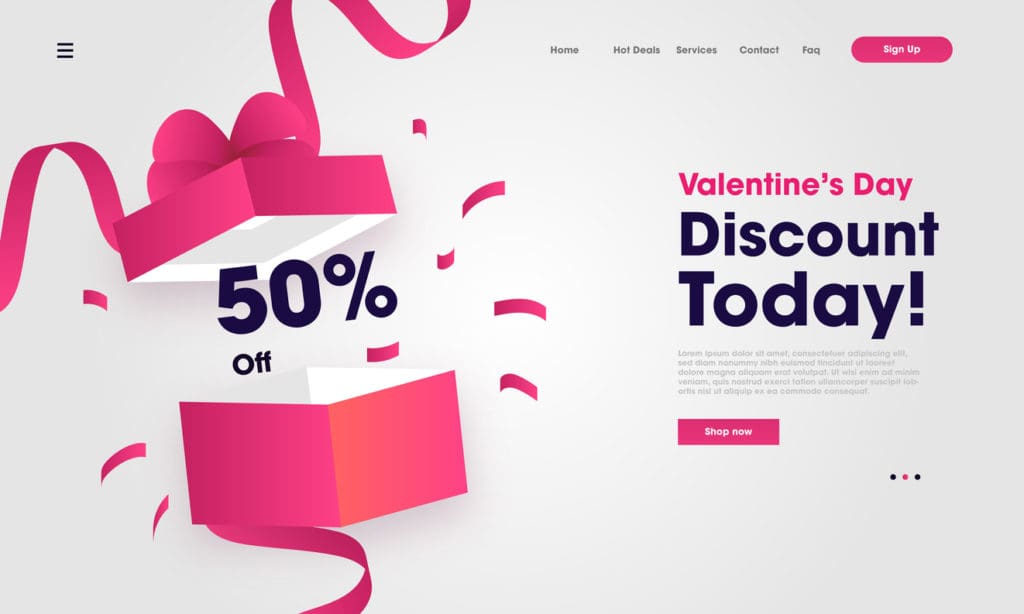 Local SEO
Local SEO optimises a business's online visibility to attract customers to a local area. Local SEO differs from traditional SEO because it focuses on specific regions, cities, or towns.
Long Tail Keywords
Long tail keywords are more specific to the search query and, therefore, more targeted and relevant to your audience. These keywords are more searched than shorter keyword phrases, but they have a higher search intent when they are searched. For this reason, marketing with long-tail keywords has a higher conversion rate than marketing with short-tail keywords.
Linkedin Marketing
Linkedin, with many marketing options, is the go-to tool to reach a targeted audience for the B2B Enterprise. It helps to run highly targeted ad campaigns to promote the Brand. So, if you are looking to promote your B2B brand among your target audience, Linkedin is a perfect choice.
M
Meta Description
Meta description helps improve the click-through rate of a website. Google uses meta descriptions to define a website's ranking. A site with a good meta description will rank better in search engine results.
Meta Tags
Meta tags are text-only page descriptors that can also be called metadata. Meta tags are not visible to users; search engines only use them and are inserted into a web page's HTML code. Meta tags can include various information, such as the page title, the page description, the author, and even the keywords used on the page.
Meta Keywords
Meta keywords are a specific type of meta tag used in HTML to provide keyword information to search engines. Meta Keywords are used to give information on the page to search engines. They are intended to be used with meta descriptions and can help improve a page's ranking in search engine results.
N
Nofollow Links
A no follow link is a link that is not required to pass any SEO equity to the linked site. The nofollow attribute prevents web crawlers and search engines from using the link to index the linked page. In other words, when a nofollow link is clicked, the user is not taken to the target page but to the home page.
Niche Marketing
Niche marketing is a strategy that helps you reach a highly targeted audience with a message specific to their needs. Today, many businesses are using a niche marketing strategy to help them overcome the challenges of reaching their target audience. This type of marketing works by offering specific solutions to specific problems.
O
On-Page SEO
On-page SEO is the process of optimising web pages for search engines. It is done by closely analysing the content of individual web pages to improve search rankings. It is as much an art as a science, which is why a successful on-page SEO strategy requires careful analysis of the target web pages and the search engine algorithms.
Organic Traffic
Organic search traffic is a combination of two factors: content marketing and SEO (organic SEO). If a search engine cannot find your website, it will not show your website in the search results. There are many ways to get organic search traffic to your website. If you can get your website to rank high on search engine results pages, you are likely to get more organic search traffic to your website.
P
Page Speed
Page speed refers to the time a web page takes to load. The faster a site loads, the better user experience the site can deliver. This can be achieved by optimising page size, load time, and network latency. Page speed is important because it can help make or break your conversion rates and can be the difference between ranking high on search results or not.
Pay Per Click (PPC)
With Google Search Engine, people looking for information find it quickly and easily. Google has a PPC (pay-per-click) advertising platform that allows companies to reach a wider audience. This is accomplished by placing ads on search engines, social media, and other websites. This can be a great option for businesses looking to get their name out there. PPC advertising may be a great option for your business.
Pinterest Marketing
Pinterest is a social media platform allowing users to create and organise different boards, such as recipes for home improvement or travel. These boards are called Pinterest. These boards are appealing to marketers because they provide a way to target users.
Q
Queries
Search engines and directories are great ways to reach consumers, but when it comes to marketing, you need to use more than just a few keywords. This is where search engine queries come into play. Search engine queries are how users look for products or services. One can use them to improve your website and make it more visible on Google and other search engines.
Quora
Quora is a great source of information for people who are looking for answers to their questions. As a digital marketer, it's important to be where your target audience is, and Quora is the perfect example of that. With Quora, you can generate targeted leads, get a pulse on what your audience is talking about, and much more.
R
ROI
Return on investment (ROI) is an economic term used to measure an investment's profitability based on the amount of money invested and the amount of profit gained. In the field of marketing, it is a measurement of how much profit is gained from an advertisement.
Let's say that a company spends $5000 on an advertisement and earns $20,000 from its investment. Their ROI would be $20,000/$5000 = 4x.
Ranking
The ranking of a website is the position of that website in the search engine results for a specific query. The ranking is different for every question so that a site can rank for one query, not another. Ranking factors include links, backlinks, relevant content, keyword use, and optimisation.
Remarketing
Remarketing ads keep your brand or product fresh in the consumers' minds and get them back to your site to purchase your goods or services. A "cookie" collects and stores the visitor's data in the visitor's browser. The cookie can allow remarketing ads to be displayed when a visitor visits another site or is surfing the net.
S
Search Engine Optimisation
SEO is a marketing strategy to enhance search results and build brand awareness. One of the main benefits of SEO is that search engines are free to use. It's important to choose the right keywords to optimise your site. The goal is to find relevant keywords for your site and the products or services you offer. You can then use these keywords in headlines, descriptions, and links.
Search Engine Marketing
Search Engine Marketing (SEM) refers to the marketing of websites to improve their position in search engine results pages (SERPs) and attract traffic by using paid advertising on search engines. SEM includes paid search results (using search engine advertising) and organic search results (SEO). SEM comprises paid search marketing, social media, email marketing, and search engine optimisation (SEO).
Search Engine Result Pages
Search engine results pages, or SERPs, appear when a user types a query into a search engine. Sponsored results and ads typically top these pages. The SERPs are in the list format, with sponsored results and ads on top.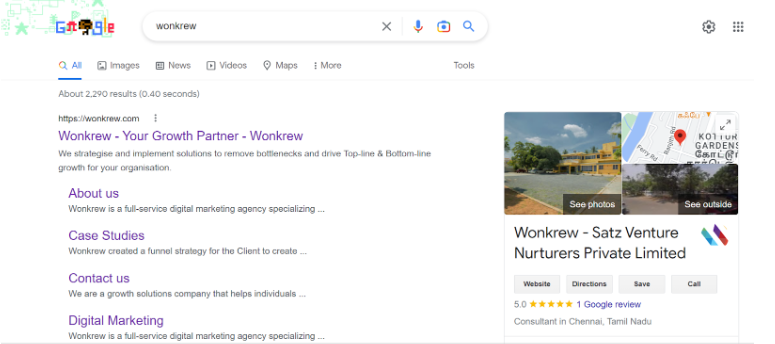 Schema Markup
Schema Markup is structured data that provides search engines with more relevant information about various aspects of your website. For example, suppose you are a plumber; schema markup can help Google understand that you are a plumber, The types of services you offer, Your opening hours, and Your address and contact information.
Search Engines
The term "search engine" refers to a software system used to search for information on the World Wide Web. Google, Yahoo, and Bing are the most well-known search engines. For a website to be found by a search engine, it needs to be optimised. SEO, or search engine optimisation, makes your website more visible to search engines.
Search Algorithm
A search engine algorithm is used to find and rank websites on the search engine result pages (SERPs). The search engine algorithms are programmed to evaluate a web page and determine its ranking on the search engine results pages. The Google ranking algorithm uses more than 200 ranking factors to determine where a web page ranks on Google's search engine results pages. Most of the time, these changes are not disclosed by search engines.
Sessions
Sessions refer to the time a visitor spends interacting on a site – between the first and last interaction. An in-depth analysis of the traffic to your site will help you understand what attracts your visitors and what they are looking at on your site.
Social Media Marketing
Social media has changed the landscape of marketing. It has made the world much smaller and allowed businesses to communicate with their customers or potential customers. It has been proven many times that social media marketing is a powerful tool in marketing.
T
Target Audience
A target audience is a particular group with shared characteristics that meet a marketer's buyer personas. The marketer needs to know the target audience to reach them with advertising. The most common target audience characteristics are age, gender, income, location and occupation.
Technical SEO
Technical SEO (SEO) is one of the pillars of SEO and needs to be noticed more frequently. This is ironic because the technical side of SEO is the foundation of your SEO and, often, the least known. Technical SEO refers to the internal aspects of a website.
Time on Page
Time on page a uses timestamps to record when pages are loaded. Time on a page helps marketers see where their audience engages with their content. A visitor's time on the page reflects the value they see in your content. The time spent on your website directly reflectshow important the content is. It's no longer enough to have a website, you also have to have quality content and a captivating landing page to keep your visitors around longer.
U
User Interface
The user interface is how a person uses a website, an application, a touch-screen device, or a machine. A good user interface can make a person feel satisfied and understood.
In contrast, a good one can make a person feel controlled and confident. A user interface allows a user to communicate with a computer system.
User Experience
User experience (UX) refers to how a consumer interacts with a product, service, or business. Your website or app should be easy to navigate whether the user is on their mobile device or desktop. Excellent User Experience results from many factors, but at the end of the day, it boils down to 3 things – Seamless, Intuitive, and Consistent.
Unique Visitors
Unique visitors report the number of visitors to a website (count or count of records) that visited only once during a specified period.
The term is used to differentiate between visitors with multiple page views (multiple page views per visit) and those that only visit one website page.
V
Video Marketing
Video marketing is a growing trend among businesses to promote their products and services, produce viral videos and increase brand recognition. It is a great way to attract, engage and convert prospects into customers. You can use Video Marketing for various purposes, such as product demonstrations, tutorials, how-to, educational, advertisements, and campaign promotion.
Visits
In digital marketing, a visit is a metric used to measure the total number of times a user navigates through a website. The metric is used with the conversion rate to understand a site's performance better.
W
Web Analytics
Website analytics are a powerful way to measure the effectiveness of your marketing efforts and is the process of collecting, analysing, and reporting website data. It is used by businesses to evaluate the effectiveness of their marketing and advertising campaigns; by creating a website, owners to better understand their visitors and improve their websites.
Y
Youtube Ads
YouTube is a video-sharing platform that allows businesses to engage their target audiences uniquely. It is a great way to get your brand in front of a large audience by offering six different advertising formats: display ads, skippable videos, sponsored cards, overlay ads, non-skippable video ads, and bumper ads. The Google AdWords platform makes it easy to create and run your ads.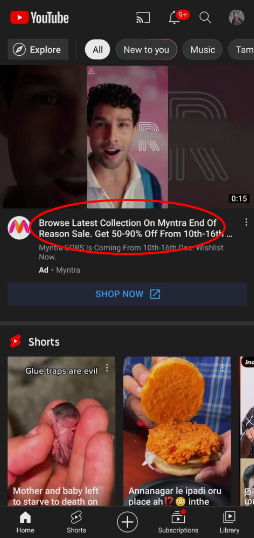 Youtube Shorts
The main advantage of YouTube Shorts over other content is that viewers are more likely to watch more of your videos if they are shorter. You could get more views by uploading 10-15 short videos daily rather than fewer longer ones. Once you've succeeded in attracting a large number of viewers, you can then start to upload longer videos.