Table of Contents
Need For Bookable Appointment Schedule
An easy approach to arranging meetings and consultations with clients, customers, and coworkers is through bookable appointments. Automating the scheduling process and eliminating the need for back-and-forth emails and phone calls can save you time and hassle.
Booking Options for Google Calendar Users
Both paid and free users of Google Calendar can make reservations for appointments. You can create one booking page and accept infinite meetings with the free version. Creating numerous booking pages, taking payments, and interacting with other Google Workspace apps are some of the extra features of the paid version.
| Feature | Free Version | Paid Version |
| --- | --- | --- |
| Number of booking pages | 1 | Multiple |
| Payments | No | Yes |
| Integration with other Google Workspace apps | No | Yes |
| Additional customization options | Limited | Extensive |
Also: 2023's Best E-commerce Platform: Woocommerce vs. Shopify
Accessible Appointment Scheduling
Anyone with a Google account can use the bookable appointments feature of Google Calendar. It would be best to make an appointment schedule before using it. The days, hours, and other pertinent information and the length of appointments can be specified.
After setting up an appointment calendar, you can invite your customers, coworkers, or clients to use the booking page. Then, from the booking page, they may make appointments. A notification will be sent to you each time an appointment is scheduled.
Limitations of Google Calendar's Bookable Appointments
One of its key drawbacks is that Google Calendar's bookable appointments function is less flexible than other scheduling applications. For instance, it is not possible to designate distinct appointment booking pages.
The free edition of the feature has less functionality, which is another drawback. You cannot, for instance, accept payments or connect to other Google Workspace apps.
Creating Your Google Calendar Appointment Schedule
To create a block of bookable appointments in Google Calendar, follow these steps:
Go to Google Calendar & click the Create button.
Click Appointment Schedule.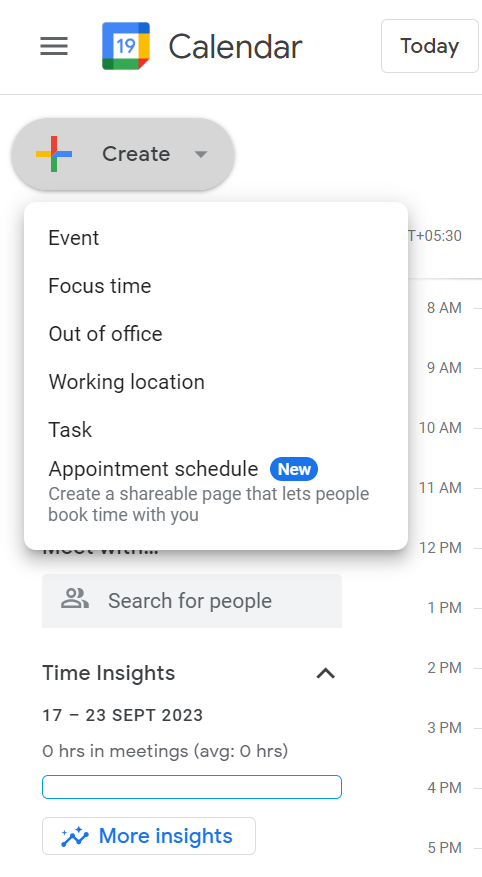 Enter a title for your appointment schedule.
Set the date, time, and duration of your appointments.
Click Next.
Configure your availability by specifying days, times, maximum daily bookings, and buffer time. Include essential details like location, description, attendees, and notification preferences.
Click Next.
Review your appointment schedule and click Save.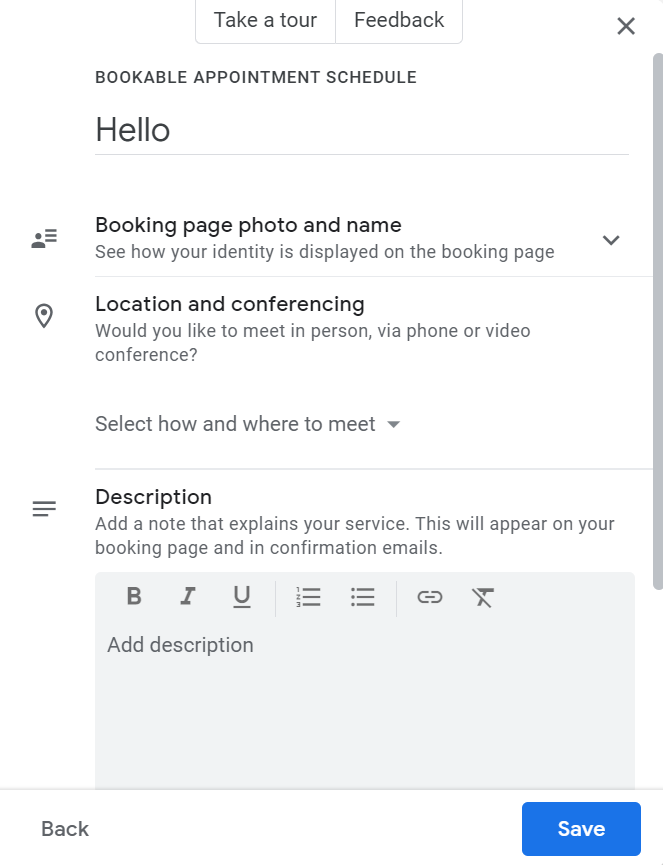 Sharing Feature
By selecting the Share button on the booking page, once you have generated an appointment schedule, you can share it with others. The booking page can be sent via email, link, or website embed.
Google Calendar's Appointment Schedule vs Calendly
Google Calendar's Appointment Schedule and Calendly are online scheduling tools allowing users to schedule meetings and appointments with others. However, there are some key differences between the two tools.
| Feature | Google Calendar's Appointment Schedule | Calendly |
| --- | --- | --- |
| Free & Paid version | Yes | Yes |
| Integration with other calendars | Limited | Extensive |
| Group scheduling | Paid only | Free |
| Online meeting integrations | Google Meet only | Variety of platforms |
| Customer support | Business hours only | 24/7 |
| Customization options | Limited | Extensive |
Overall
Google Calendar's bookable appointments feature is a convenient and efficient way to schedule meetings and consultations. It is easy to use & offers a variety of features, both in the free and paid versions.
If you are looking for a way to streamline your appointment scheduling process, Google Calendar's bookable appointments feature is a great option to consider. It can save time and hassle and make it easier for your clients and customers to book appointments with you.