WhatsApp has constantly been evolving to provide a better user experience. The Meta-owned messaging app has now introduced several new features that make it more accessible.
WhatsApp replaced lengthy group chats with a feature-rich alternative called WhatsApp Communities. They also introduced incredible features such as big file sharing, 32 people group calls, special tools for admins, and emoji reactions. This has been welcomed by organisations such as schools, local clubs and businesses.
1. What is the new WhatsApp Community Feature? 
The WhatsApp Community function will help people unite separate groups under A single roof. In this way, people can easily organise smaller discussion groups on topics that matter. Communities will also contain powerful new tools for administrators, which make this feature more profitable.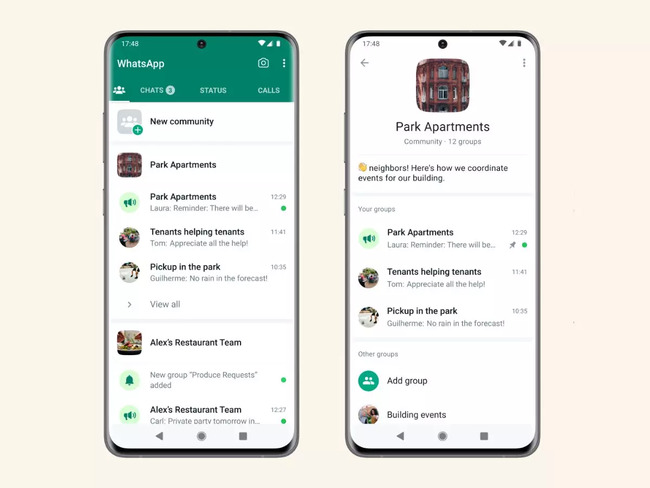 2. What is the difference between a WhatsApp Group and a Community?
You need someone's phone number to add them to WhatsApp, and group chats used to be limited to 256 participants. But now, with the Communities feature, 1024 people can participate in a community with multiple sub-group chats.
3. What are the benefits of WhatsApp communities?
Organise and manage conversations between groups
More updated features for administrators
Helps to keep people up to date.
Facilitate real-time conversations
Can connect many related groups under a single roof
4. What are the other features released along with WhatsApp communities?
Interactive emoji reactions
Big file-sharing facility – up to 2 GB
In – Chat polls
32 person Video chats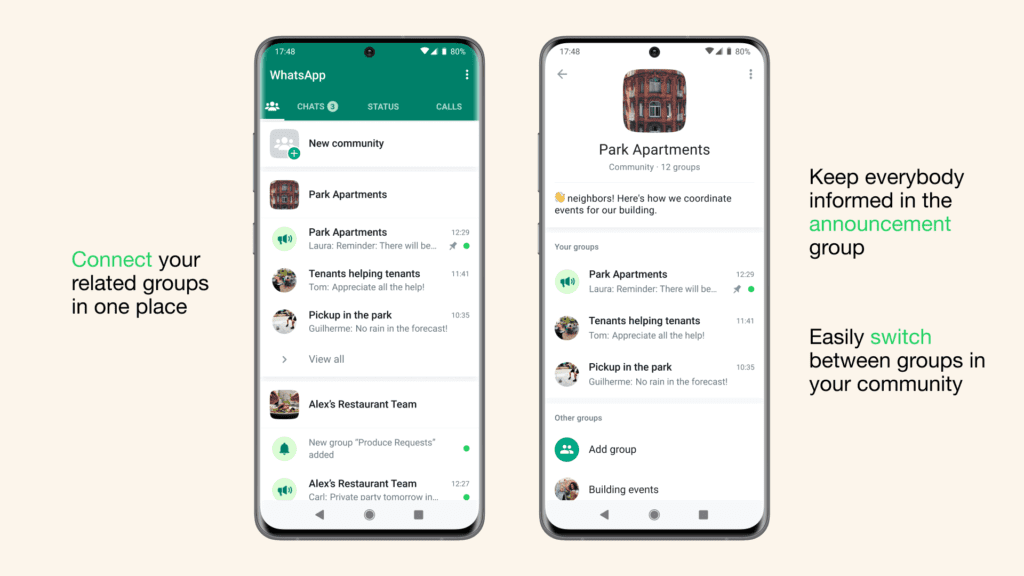 5. How can businesses make use of the WhatsApp community feature?
Businesses can use the WhatsApp community feature to engage with their clients more efficiently. By creating a WhatsApp community for your business, you can help build relationships with more related groups and keep all of them updated with each event and activity easily.
WhatsApp has designed new tools for admins to control conversations in their private groups. Admins are in charge of creating and managing Communities on WhatsApp. They can elect which groups become part of their Community by starting new groups or linking existing groups with many more interesting features. Businesses can use these features to connect clients and employees productively.
6. How does the WhatsApp community feature protect privacy?
To help safeguard user privacy, phone numbers will be concealed from the Community and only be visible to Community administrators and others in the same group.
Admins will be able to delete inappropriate or abusive chats or media for all members of a group.
Whatsapp also announced that any administrator, member, or all community members would be banned if any abusive content is found.
If you are interested in WhatsApp Business Account for your company or setting up automation for your WhatsApp Business Account, please do not hesitate to contact us.